About SUCCESS National Convening
Information about SUCCESS National Convening 2024 coming soon!
Supporting Undocumented Students' College & Career Equity: Strategies for Success (March 25- 27, 2022 at Swarthmore College, PA)
In March 2022, over a hundred and eighty people attended the inaugural SUCCESS convening. Attendees represented 67 institutions and organizations from across the country, and included campus and student leaders, organizational partners, student advocates, and policy experts. The goal of the SUCCESS convening was to bring together these diverse stakeholders to improve equitable access to higher education and careers for undocumented immigrant students, learn from each others' successes, identify and solve common challenges, and produce a sustainable network in which to share promising practices. Following the convening, we asked the participants for their feedback on the sessions, and suggestions for how we should build on our time together for future convenings and collaboration. The convening received high marks from participants, who also shared excellent suggestions and ideas for the future.
"Traveling to the conference was very impactful, I had never flown and in this experience I was supported from all sides of my family seeing that this was not just for me but for everyone to get past fears that keep us from living."

Convening Participant
Areas of the convening that were most valuable to participants
Attendees found the state of play data very valuable and are interested in seeing how they can continue the conversations with each other. Other highlights included:
The connections and networking between students, advocates, practitioners and policy experts
Learning about what other institutions are doing and who are the key players in each campus
Identifying models and best practices to take back to their respective campuses to support undocumented students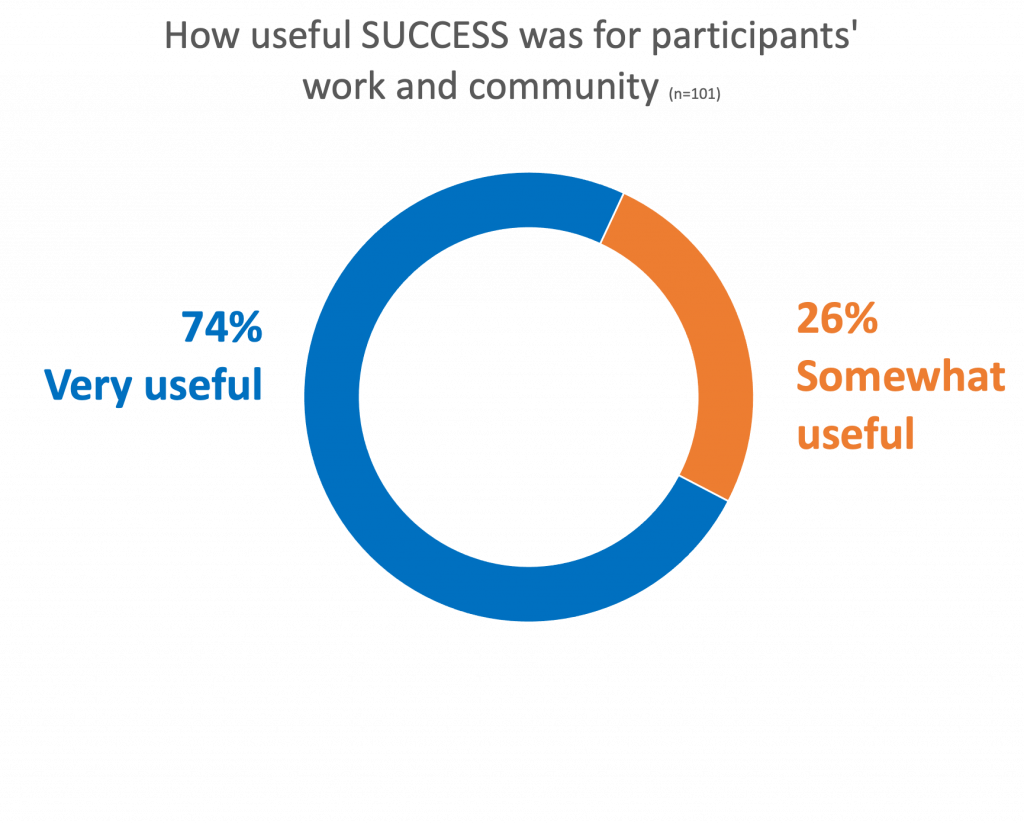 "Overall, I felt re-energized around this work and learned a lot of very valuable campus tips, tools and a better understanding of the current policy landscape. Also, I felt that now I have an incredible list of individuals and organizations that I can reach out to for guidance and help as I begin to implement more of these ideas back on my campus."

Convening Participant
Ideas for Future Convenings:
Centering current undocumented voices and including immigrant experiences across the different diasporas
Keeping in mind who the target audience is and identifying speakers that resonate with and represent that audience
Combating the dreamer narrative more explicitly
Less presentations and more time for informal networking
Sharing more best practices from restrictive states
Suggestions for continuing the SUCCESS conversations and work:
Continue the sharing of best practices through learning communities that allow practitioners to dive deeper into specific areas of interest
Networking and community building through online platforms
Creating the space for more in person engagements or online group discussions/working groups
A directory of convening attendees
An archive of resources, guides, presentations, etc…
Co-Hosts, Funders, Sponsors & Participating Institutions
Host Partners in the Convening: The three organizational co-hosts for this convening represent the leading organizations supporting undocumented students in higher education, and Swarthmore College has generously agreed to serve as the convening's campus host.
Resources and Materials
The SUCCESS Convening proceedings and the webinars, presentations, and toolkits produced as part of the workshops will be disseminated via the Higher Ed Immigration Portal, which will be used to generate sustained communities of practice for campuses to engage, network, and learn.
Core to the Portal's mission is to provide stakeholders with the information and tools they need to support immigration policies that expand access to higher education, degree completion, and postgraduate career success.
Below you can find the recordings and resources that were shared and developed for the convening.
Friday March 25th
Saturday March 26th
Breaking Financial Barriers
Post-Graduate Opportunities
Thriving in the Academy Sessions
Keynote
Sunday March 27th
Campus, State and Federal Advocacy Session
To close our convening, we focused on our next steps–the advocacy and actions we can take at the institutional, state, and federal levels.
Thank You
The Presidents' Alliance also thanks the following foundations for funding our work to increase the institutional capacity of colleges and universities to support undocumented students:
Andrew W. Mellon Foundation
Anonymous Donors (2)
Carnegie Corporation of New York
ECMC Foundation
FWD.us
The Kresge Foundation