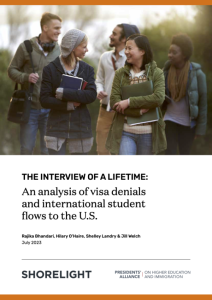 It has long been argued that students are denied visas due to a combination of lapses on their part, including being ill-prepared for the visa interview and not having adequate funds to support their studies in the United States. But recent data shows that there is a much more troubling pattern to these visa denials.
In this report, the Presidents' Alliance and Shorelight provide a data-driven lens to a widely-reported trend: students from the Global South, and the African continent in particular, are denied visas to study in the U.S. at disproportionately higher rates than the rest of the world.
The Interview of a Lifetime: An analysis of visa denials and international student flows to the U.S. report seeks to support evidence-based policymaking by examining visa adjudication trends over an eight-year period between 2015 and 2022, a period that spans three presidential administrations.