Undocumented Students in Higher Education
How Many Students are in U.S. Colleges and Universities, and Who Are They? (Updated August 2023)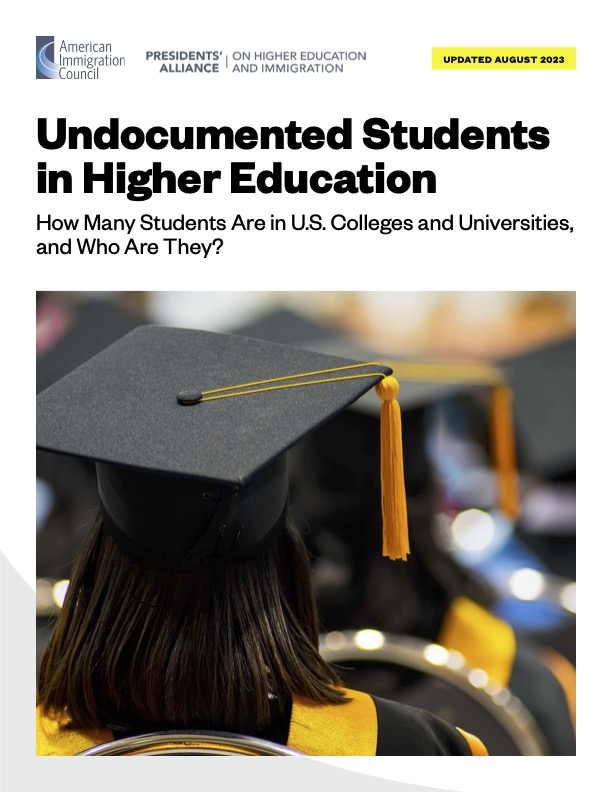 The Presidents' Alliance on Higher Education and American Immigration Council released an updated analysis of how many undocumented students are pursuing higher education in the United States: Undocumented Students in Higher Education: How Many Students are in U.S. Colleges and Universities, and Who Are They? (Updated  August 2023). The new estimates show there are more than 408,000 undocumented students enrolled in postsecondary education, representing about 1.9 percent of all postsecondary students. This estimate represents a decrease of 4.2 percent from 2019, when 427,000 undocumented students were enrolled. The drop likely reflects overall enrollment decline due to the pandemic and economic pressures, as well as factors that specifically impact undocumented individuals, such as the continued legal challenges to DACA. 
The number of students with DACA or who are DACA-eligible also continue to decline, from 182,000 in 2019 to 141,000 in 2021, making up only one-third of undocumented students and 0.7 percent of all college students.One of the primary factors contributing to the smaller population of DACA or DACA-eligible students is the program's lack of updates to include individuals who arrived in the U.S. after 2007, which is the specified eligibility date. Consequently, if someone arrived in the U.S. at the age of 4 in 2008, they would be of college age but not eligible for DACA.
Among the report's top findings are:
More than 408,000 (approximately 1.9% of all students) undocumented students are enrolled in higher education.
While most undocumented students pursuing postsecondary education do not have DACA, the vast majority, accounting for three out of four undocumented students, came to the U.S. at a young age.
Undocumented students are a diverse population in higher education, with Hispanic students accounting for 46% of undocumented students, compared to 27% for Asian students, close to 14% for Black students, and 10% are White. The top five states with undocumented students in higher education are California (83,000), Texas (59,000), Florida (40,000), New York (30,000), and Illinois (20,000).
77% of undocumented students are enrolled in public institutions while 23% attend private postsecondary institutions. The percentage of undocumented students attending private institutions increased slightly between 2019 and 2021.
An increased proportion of undocumented students are pursuing advanced degrees than in 2019, with approximately 12.8% of all undocumented students in graduate and professional programs, up from 10.3% in 2019. Among DACA eligible students, 19.3% are studying in graduate and professional programs in 2021, up from 14.2 in 2019.
Many undocumented graduate students hold degrees in STEM and healthcare-related fields.
To view the 2021 report, see link here.
To review the 2020 report, see link here.
Last Updated: August 2023.