Report: Higher Education and Success for Undocumented Students Start with 9 Key Criteria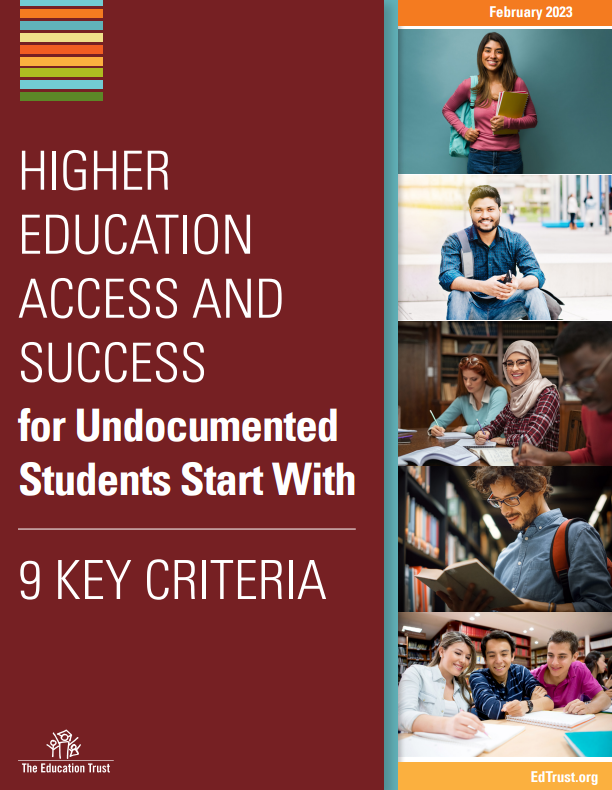 A higher education is the key to social mobility and economic security in the U.S. However, many undocumented students and graduates face the dual barrier of ineligibility for college supports in addition to lack of employment opportunities due to their undocumented status. Immigration reforms at the state and federal level are necessary to provide equity and humanization to this growing population.
The Education Trust analyzed the 15 U.S. states with the largest shares of undocumented college students to determine whether states policies are helping or hurting undocumented students' ability to access and complete college.
The report identifies where policy reforms and additional support is needed for undocumented students in higher education and offers recommendations for federal and state policy makers. Read the report here. 
Here is a preview of the report's most notable findings:
Of the 15 states we examined, 13 allow all undocumented students — including DACA recipients — to enroll in two- and four-year state public higher education institutions. One state limits undocumented student enrollment to those with a diploma from a U.S. high school, and another prohibits undocumented students from enrolling in many of the state's public four-year universities and state colleges.
Five states restrict or prohibit undocumented students from receiving state financial aid, and two states make undocumented students pay out-of-state-resident tuition rates. 
Eight states prohibit or do not affirmatively allow undocumented students to access professional/ commercial licenses, and two states limit professional/commercial licenses to DACA recipients and allow them to obtain only certain types of licenses. Five states allow all undocumented individuals to access a wide range of licenses.
Nine states grant all undocumented individuals in their states access to driver's licenses, while six states limit driver's-license eligibility to undocumented individuals who are DACA recipients.
Here's a preview of the report's state and federal policy recommendations:
For state policymakers:
Expand state public benefits (including higher education, professional/commercial licenses, state Medicaid, housing, food assistance) to all undocumented individuals.
Make all forms of state financial aid — including free college programs — available to all undocumented residents, those with and without DACA.
For federal policymakers:
Enact a pathway to citizenship for all undocumented individuals, including DACA recipients.
Repeal 20 U.S.C. 1091(a)(5) of the Higher Education Act to make all undocumented students eligible for federal financial aid.
Explore the report's full list of findings and recommendations here.
Also read the post Eliminating Barriers to a Higher Education for Undocumented Students Is an Urgent Need by Christian Penichet-Paul former director of Higher Ed Portal here.