Leveraging the Positive Impacts of U.S. Higher Education as an Immigration Pathway: The Role of Foreign-born Campus Leaders and Faculty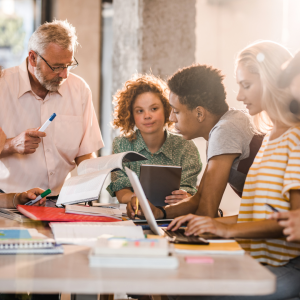 For at least the past two centuries and especially since the mid-1960's, when the doors of U.S. academia were opened more widely to global talent as a result of immigration reform, foreign-born faculty and leaders1 with origins in other countries and cultures have been part of the fabric of American higher education. For many, their immigration pathway here was through study or work at a U.S. campus. A visit to most U.S. colleges and universities today reveals a visibly diverse academic workforce, including those who are foreign-born and whose presence has increased rapidly over the past three decades primarily due to the large growth of international students in the U.S.—the pathway for most foreign-born faculty and leaders in the U.S. 
It is widely acknowledged that in addition to their contributions to research and teaching, foreign-born faculty and leaders on U.S. campuses often play an instrumental role in furthering innovation, bilateral relations, and international collaboration between U.S. institutions and those in other countries while also hosting international students, postdocs, and visiting faculty from their country or region of origin. The presence of an international employee pool has enabled institutions to strengthen their global rankings and to demonstrate progress in internationalization and diversity on their campuses.
Yet, despite the growing presence of foreign-born professionals and leaders on U.S. campuses, including presidents and chancellors, and their demonstrated value, there is scant and inconsistent evidence about the growth and trends of this population over time; their backgrounds and experiences navigating academia and our immigration system; and their specific, quantifiable contributions to U.S. postsecondary education, the economy, and society.
While the economic contributions of international students during their tenure as students are well-documented, we don't have the benefit of the same data for international alumni who remain in academia as professionals. Most existing evidence is limited to foreign-born scientists and engineers, given the critical and much-needed role that such individuals play in advancing the STEM fields in the U.S. In 2019, almost half of U.S.-trained STEM postdocs on American campuses were born overseas, as was almost 30% of full-time science and engineering faculty. But these numbers fail to capture the sizable numbers of international-origin faculty and leaders who are not in the STEM fields. Overall, as shown on the Higher Ed Immigration Portal (and based on U.S. census data), there were almost 895,000 first-generation immigrant staff at U.S. institutions in 2019, but this estimate is just a starting point for future, nuanced analysis of the varied trajectories of foreign-born staff, as well as the pathways to leadership in academia.
This piece presents an argument for why understanding the positive impacts and presence of foreign-born faculty and leaders in U.S. academia is critical to U.S. interests; the barriers that these individuals face in their education-employment-immigration pathways; and the challenges that exist in enumerating the size and contributions of this population.  
Why It Matters
Former international students or international alumni who go on to fill the ranks of teaching and leadership roles on U.S. campuses play a critical role in upholding the global character and appeal of U.S. institutions and pave the way for more international students to study in the United States. They embody the immigration pathway offered by higher education.
From an immigration policy perspective, even though international students aspiring to academic careers are subject to fewer restrictions than those pursuing careers in non-academic sectors, they nonetheless face the same complex immigration pathway and visa processing delays that all international students and future skilled immigrants encounter. Overall, improved immigration policies for international students—which is the entry point for most foreign-born faculty and leaders—can have an overall positive impact on attracting global talent to U.S. colleges and universities.
As U.S. institutions look to deepen their internationalization efforts and to attract more international students, their foreign-born employees can be mobilized to serve as champions and advocates for such efforts.
The shifting demographics of the U.S. are also evident in an increasingly diverse postsecondary student body: 30% of all students are either international students or first- or second-generation immigrants. Students want to see faculty, administrators, and leaders who reflect their identity and lived experience. Foreign-born faculty and leaders can help diversify and transform U.S. colleges and universities, creating spaces for and mentoring students, coming from a diversity of communities and backgrounds, to contribute their knowledge and talent to advance higher education.
The Education-to-Employment-to-Immigration Pathway for Foreign-born Faculty and Leaders
Many foreign-born individuals who find employment in U.S. academia first arrive as international students on F-1 student or J-1 exchange visitor non-immigrant visas, while others are first-generation immigrants who arrived in the U.S. when they were young, as children of immigrants, refugees, or international students or workers. Those on temporary, non-immigrant visas work towards their degrees, often obtaining a terminal doctoral degree which allows them to enter academia. This is followed by the lengthy immigration pathway of pursuing Optional Practical Training (OPT), obtaining the H-1B work visa, and then eventually a green card. Some foreign-born faculty also transition into becoming senior administrators, assuming the roles of provost, senior international affairs leaders, vice presidents, presidents, and chancellors.
With the overall globalization of education, college and university administration in the U.S. has seen a steady growth in international students interested in such careers, with many higher education and student affairs graduate programs across the country seeing more international students in their programs. However, international students interested in pursuing higher education careers face a unique challenge: most U.S. institutions are not equipped to hire international students for administrative positions because most such jobs are not classified as ones requiring special skills or talent—a primary requirement of the H-1B work visa. 
Who and How Many? A Glaring Lack of Data
Although occasional reports point to the increasing numbers of foreign-born campus leaders, no comprehensive count exists at the national level. This is largely due to definitional variations based on immigration status, race and ethnicity, and of who constitutes "international" faculty and leaders. Questions about national origin, citizenship and immigration status are often excluded from surveys of U.S. higher education, including those by the American Council on Education (ACE), Inside Higher Education, and other entities. While these surveys might ask about race and ethnicity, the national origin is often assumed or conflated with racial diversity, an issue we discuss below.
The inability to track the status "of foreign-born college and university presidents is a missed opportunity to explore the lived experiences of foreign-born college and university presidents as well as to identify trends, gaps, and pathways to the presidency."

 "We Live in Two Worlds": Foreign-born College and University Presidents – Perspectives, Leadership, and Resiliency
Similarly, while the U.S. Department of Education's IPEDS system includes a count of U.S. postsecondary faculty who are "non-resident aliens," i.e. those who are still on temporary visas, it does not account for the total number of foreign-born faculty and leaders because those who are permanent residents or naturalized citizens are included in the same category as U.S. citizens when tabulating demographic characteristics such as race and ethnicity. Still, the IPEDS/National Center for Education Statistics data does show that the proportion of "non-resident" instructional faculty among full-time faculty at U.S. higher education institutions more than doubled from 2.5% in 1999 (or 15,244) to 5.97% in 2020 (or 50,019). 
At the institutional level, colleges and universities also do not track national origin data of their faculty. By the time foreign-born campus employees attain full professorship or senior leadership roles, they have likely progressed in their immigration status by attaining permanent residence (a green card) or even U.S. citizenship. As a result, they are counted as U.S. residents or citizens for the purposes of institutional and diversity data. 
National- and institutional-level data do exist on the race and ethnicity of college and university faculty and leaders. Reporting does not indicate whether the individuals are foreign born and it is not disaggregated further by the national origin of individuals, thus making it difficult to disentangle diversity goals and trends for native-born Americans from those who are foreign-born permanent residents or naturalized citizens. The complex interplay of race, culture, and diversity can also pigeonhole international faculty, where they risk being seen as the sole representative of a particular race or group and without understanding of their immigration journey.  
The overall lack of data on foreign-born faculty and leaders in U.S. higher education also obscures the reality that they are often not effectively integrated into their host institutions due to a variety of cultural, academic, and adjustment barriers. These barriers can range from students' attitudes towards and stereotypes of foreign-born faculty and leaders from specific countries to hurdles around professional advancement and contributions to journals with a predominantly White, Anglo-American tradition where the input of scholars from different backgrounds might not be welcomed. Other challenges can include navigating the rocky terrain of visa policies; language issues; juggling professional responsibilities such as tenure, research, and mentoring; and serving the diversity, equity, and inclusion (DEI) and internationalization goals of institutions—all this while also pursuing an immigration status that offers some permanence and continuity.
"The moment I entered a primarily white institution as a foreign-born faculty member of colour, my otherwise complex, multidimensional and rich humanity became completely reduced to a simple, one-dimensional and impoverished identity. I am first and foremost a scholar born and raised in China (and Asia); an anthropologist of education is only a secondary identity."

The irony of an international faculty, Chenyu Wang

The U.S. is at a critical juncture as it stands poised to recover from a period of declining international enrollments and the clear need to restore its appeal as the top destination for the world's talent. Foreign-born faculty and campus leaders play an important role in retaining and strengthening the global competitiveness of U.S. institutions and thereby inspiring future generations of students from around the world to study in the U.S. But to fully leverage the power and influence of such faculty and leaders, we need to first and foremost understand the scale and scope of their presence; acknowledge their pathways and diversity of their journeys; and address the academic, cultural, and immigration-related barriers that might prevent them from fully realizing their positive impact.
.
1 The term "foreign-born" as used in this article includes those who first arrived in the U.S. as international students, those who arrived on exchange visas, and those who are first-generation immigrants who likely arrived in the U.S. as children of immigrants or refugees. "Faculty and leaders" as used in this article applies to those in teaching and senior administration roles, as well as presidents and chancellors.