The need for collective action to support refugee students could not be greater. Forced displacement has doubled in the past decade, and 2021 is likely to be another record-setting year in terms of the number of people forced to flee their homes. At the same time, fewer than one percent of refugees are resettled each year and only three percent of refugees are able to access higher education. Currently, only small numbers of refugee students make their way to the U.S. to study as F-1 international students. The F-1 visa system is complex for refugee students to access and does not provide them with a durable solution.
With the current administration, there are opportunities to develop innovative programs and policies to help refugee students overseas come study on campuses across the U.S. Most significantly, President Biden issued an Executive Order (EO) on February 4, 2021 requesting that the Departments of State and Health and Human Services provide a plan for new initiatives for private sponsorship by June 2021 as part of his administration's commitment to rebuild and enhance U.S. refugee resettlement. A proposed university-based sponsorship of refugee students would accelerate access to higher education for refugee students, capitalize on the many resources available in and through campus communities, and remove the legal barriers currently preventing talented refugees overseas from attending U.S. colleges and universities and provide displaced students with a path to permanent residency.
Check out the graphic below to see the ways in which higher education education pathways can be important complementary pathways for refugee students to come to the U.S.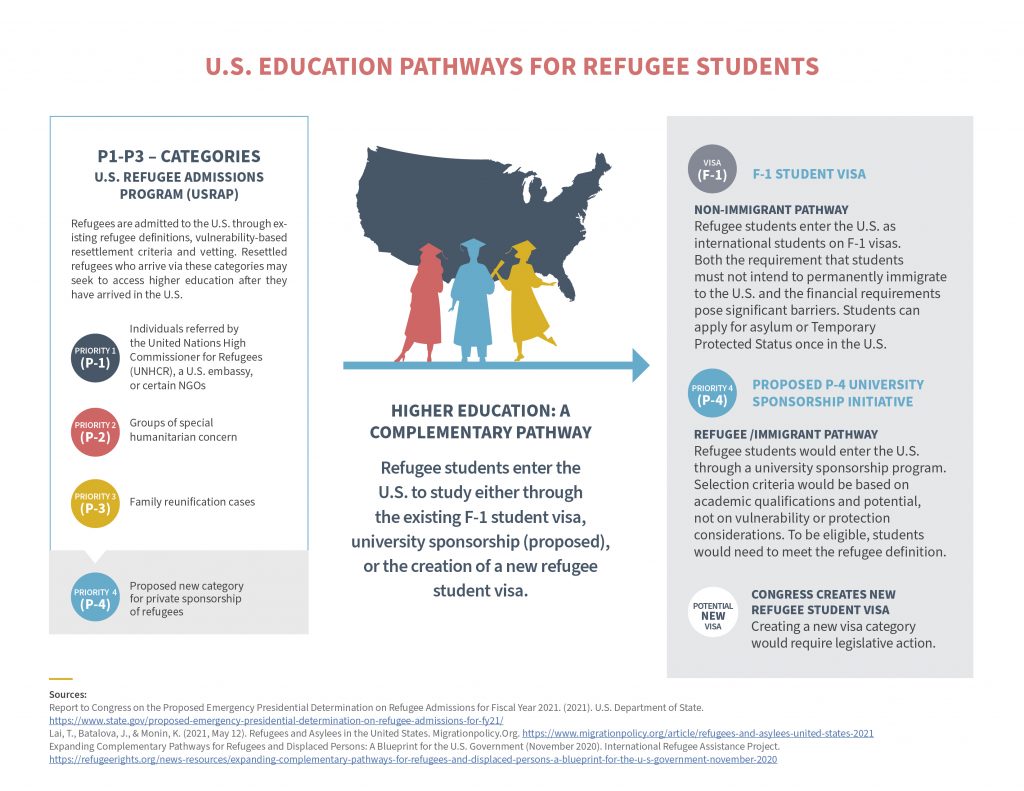 Check out this glossary for more information on complementary pathways and current statistics. Click here to see a full-size version of the graphic.
Check out this letter, signed by approximately 50 organizations and institutions, urging the exploration of a program for colleges and universities to directly sponsor refugee students.
For more information on the Initiative on U.S. Education Pathways for Refugee Students, click here.