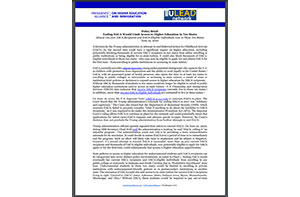 Ending DACA Would Limit Access to Higher Education in Ten States
This policy brief examines the impact of ending Deferred Action for Childhood Arrivals (DACA) on access to higher education in ten states. The brief notes that ending DACA would potentially block thousands of current DACA recipients and DACA-eligible individuals from either enrolling in public institutions or being eligible for in-state tuition in the ten states. The U.S. Supreme Court ruled on June 18, 2020 to maintain DACA in place. However, the Supreme Court's decision does not preclude the Trump administration from attempting to end DACA again by providing a more comprehensive rationale.
Ending DACA for a second time would block access to higher education for about 39,370 DACA recipients and more than 60,000 DACA-eligible individuals – who may now be eligible to apply for and obtain DACA for the first time – living in Alabama, Arkansas, Idaho, Indiana, Iowa, Maine, Massachusetts, Mississippi, Ohio, and South Carolina.
Last Updated: June 29, 2020.