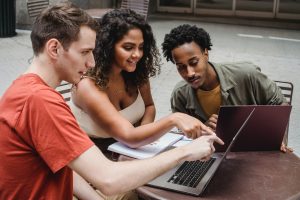 International students are a critical population within the higher education sector in the U.S., attending colleges and universities across the country and pursuing various fields of study. International students have studied in the U.S. since the 19th century. Their perspectives help globalize U.S. higher education and make it world-class. Yet, despite their important role in U.S. society, many people have a limited understanding of international students: who they are, what they contribute, and why the U.S. needs them.
While public opinion polls in the U.S. show an overall positive attitude toward international students, they also find a significant gap in a clear understanding of the value and benefits of international students, with negative perceptions lingering that international students take college seats away from U.S. students and that they might pose a security threat to the U.S. These perceptions are not supported by evidence. Here is how to respond to five common myths about international students in the U.S.
---
[1] https://www.insidehighered.com/admissions/article/2017/12/11/study-finds-international-students-do-not-displace-americans. Regets, M. (2007). Research Issues in the International Migration of Highly Skilled Workers: A Perspective with Data from the United States. Working Paper, SRS 07-203, June 2007, 11.
[2] https://nfap.com/wp-content/uploads/2018/10/2018-BILLION-DOLLAR-STARTUPS.NFAP-Policy-Brief.2018-1.pdf
[3] https://www.cato.org/blog/dont-ban-h-1b-workers-they-are-worth-their-weight-patents
https://www.americanimmigrationcouncil.org/research/h1b-visa-program-fact-sheet
[4] https://nfap.com/wp-content/uploads/2019/04/Employer-Paid-H-1B-Visa-Fees.NFAP-Policy-Brief.April-2019-1.pdf