DACA: What You Need to Know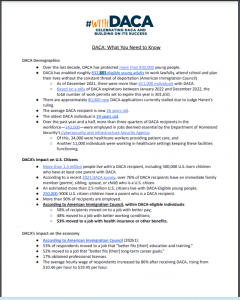 Over the last ten years, Deferred Action for Childhood Arrivals (DACA) has protected about 832,000 young undocumented individuals from deportation and allowed them to work legally in the U.S. DACA was announced by President Obama on June 15, 2012. DACA recipients must renew their protections every two years. The policy does not provide lawful status and does not provide a path to U.S. citizenship. As of December 2021, there were more than 611,000 individuals with DACA.
The tenth-year anniversary of DACA is a time to commemorate the policy, appreciate its positive impacts on DACA recipients and on the U.S., and reiterate the need for a permanent, legislative solution. This resource provides key data and information related to DACA, including the following:
Demographics of DACA recipients;
DACA's positive impact on U.S. citizens;
DACA's positive impact on the economy;
DACA and education;
Support for a pathway to U.S. citizenship;
Resources.
The resource was created as part of the #WithDACA campaign commemorating DACA's tenth-year anniversary and its success.