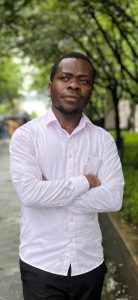 Refugee students and alumni in the U.S. share their experience and perspective.
Current and former students from refugee backgrounds face a number of obstacles accessing higher education in the U.S. Here we share their experiences, their perspectives on a proposed university sponsorship initiative , and celebrate their contributions to U.S. campuses and communities.
My name is Zakayo K. Meshack. I am currently attending Columbia University in New York City. My journey to the United States has been quite challenging. I have been awarded the Scholarship for Displaced students to enhance my studies to the graduate level.
Financial challenges refugee students face when admitted to U.S universities
One could assume the road to be smooth after being awarded the scholarship but that was not the case. It took courage and determination to become a student at Columbia University. The scholarship awarded was not meant to cover all travel expenses, so it was up to the students to cover them. That means all travel documents and flight cost needed to be paid out of pocket, that is not easy for a refugee of my background. Since I was interning with the National Social Security Fund in Dar Es Salaam, I was able to secure a loan that helped with all the costs involved. 
Path to a dream career
As a candidate for a Masters of Social Work at Columbia University, I aim to acquire knowledge and skills in mental health illnesses, social enterprise administration, management and leadership so that I may be able to contribute in the area of international social welfare and services to immigrants and refugees. I decided to pursue a career as a Social Worker since my passion has always been to assist others and try to improve their quality of life. My career goal is improving the living conditions of marginalized people or people who are treated as underserved or underrepresented like refugees. My spring internship was at the International Rescue Committee where I was able to use my skills and French, Swahili languages to help people. This career will help me to make a positive impact in the lives of many people who are going through difficult situations.
Life of refugee student on campus
As a student in the U.S. you need to work hard, connect with people and after all take some self-care hours. Before I came to Columbia, I was a leader of the United Nations chapter of the Institute of Finance Management in Dar Es Salaam and took many other leadership positions during my undergrad. I also play football (soccer) which is crucial in my networking on campus. For all the brothers and sisters with backgrounds like mine, please do not lose hope. Keep working hard and you will reach where you want to be one day.