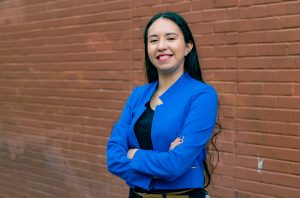 Nallely Panduro Romayor
State: California
TELL US ABOUT YOURSELF AND WHAT YOU DO.
"As an immigration rights paralegal, I work with the "Keeping Communities Together" team to help adults and unaccompanied minors seek relief from deportation before the San Francisco Immigration Court and U.S. Citizenship & Immigration Services."
TELL US WHY YOUR WORK MATTERS…
"Centro Legal's immigration practice is focused on serving the needs of our most vulnerable community members, including families living in poverty, long residing undocumented immigrants and families, youth, victims of violent crimes, asylum seekers, and detained individuals in removal proceedings."
WHAT UNIQUE PERSPECTIVES DO DREAMERS BRING TO THEIR WORK?
"As a DACA recipient, I appreciate the value of available legal services and resources to immigrant communities and the importance of serving our most vulnerable community members, including stopping the spread of misinformation among the immigrant community."