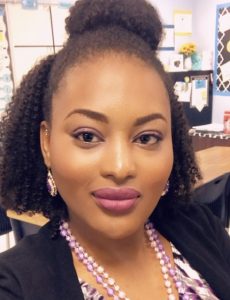 Damela Cedelias
State: Florida
TELL US ABOUT YOURSELF AND WHAT YOU DO.
"I am a passionate educator on a mission to empower young minds. With the help of TheDream.US Scholarship, I graduated with a bachelor's degree in English Literature and earned my master's degree in Education. For the past four years, I've been working as a middle school teacher and working with a non-profit organization, which I co-founded. We strive to provide academic and social supports to families in my community who are in need."
TELL US WHY YOUR WORK MATTERS…
"I know that reading unlocks the doors and enables students to explore the world. Each year, I stand before 100+ middle school students and encourage them to strive for
success. These children will shape the future of this country and the world, so I want them to know that they have someone who cares about them and is cheering them on each step of the way."
WHAT UNIQUE PERSPECTIVES DO DREAMERS BRING TO THEIR WORK?
"I teach my students not to take anything for granted. I share my life stories with them to help them believe that anything is possible when you work hard towards your dreams. I teach them to respect each other and to have compassion for one another."