International student alumni in the U.S.: Making a difference at the community, state and national level
Current and former international students live and work across the entire U.S., in large cities as well as small towns. Here we share the stories of ten individuals whose daily work in key areas contributes to U.S. communities and society.
GENDER AND WOMEN'S RIGHTS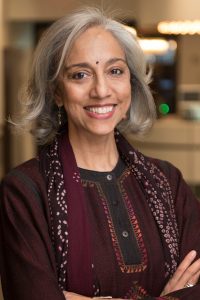 Kavita Ramdas, Director, Women's Rights Program, Open Society Foundations
Kavita Ramdas came to the U.S. from India to earn a bachelor's degree from Mount Holyoke College and a master's degree from the Woodrow Wilson School of Public and International Affairs at Princeton University. Today, Kavita is a recognized global advocate for intersectional gender equity and justice. She currently serves as the Director of the Women's Rights Program at the Open Society Foundations where she leads a global grantmaking and advocacy program that supports the voice, power and agency of women and gender-nonconforming communities as they mobilize to defend and advance open societies.
Kavita previously served as a Strategy Advisor for MADRE, an international women's rights organization, and founded KNR Sisters, an independent consulting venture. From 1996 to 2010 she led the Global Fund for Women as President and CEO to grow into the largest public foundation for women's rights in the world. From 2012-2016 she led the Ford Foundation's operations in South Asia and was Senior Advisor to Darren Walker, the Foundation's President. She founded SEERS, the Social Entrepreneurs in Residence Program at Stanford University and is a member of Aspen Institute's Henry Crown Fellows Program. Currently, Kavita serves on a few select non-profit advisory boards, the board of trustees of the Rockefeller Brothers Fund, and the board of directors of GRIST, a publicly supported journalism non-profit focused on climate justice.