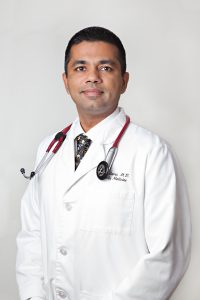 International student alumni in the U.S.: Making a difference at the community, state and national level
Current and former international students live and work across the entire U.S., in large cities as well as small towns. Here we share the stories of ten individuals whose daily work in key areas contributes to U.S. communities and society.
MEDICINE AND HEALTH
Dr. Amit Sapra (Springfield, IL)
Assistant Professor, Family and Community Medicine, Southern Illinois University
Dr. Amit Sapra came to the U.S. from India to pursue his medical residency at the University of Arkansas. Today, he is an Assistant Professor with the Southern Illinois University (SIU) School of Medicine in the Department of Family and Community Medicine. As someone who has spent his professional life on the forefront of medical emergencies such as the 2001 earthquake in India or with eradicating polio in partnership with the WHO, Dr. Sapra has most recently been on the frontlines of COVID-19 relief in his state and community earning him the designation of "Illinois COVID-19 Prevention Ambassador" by the Illinois government and being recognized by the Illinois Governor as a Volunteer of the Week in January 2021.
Dr. Sapra appears frequently in the media and press; has published extensively in peer-reviewed journals; and has received numerous prestigious awards, including the "Teacher of the Year" award from his institution, and the Master Preceptor Award from the Society of Teachers of Family Medicine for demonstrating a commitment to educating those who will provide primary care for America.