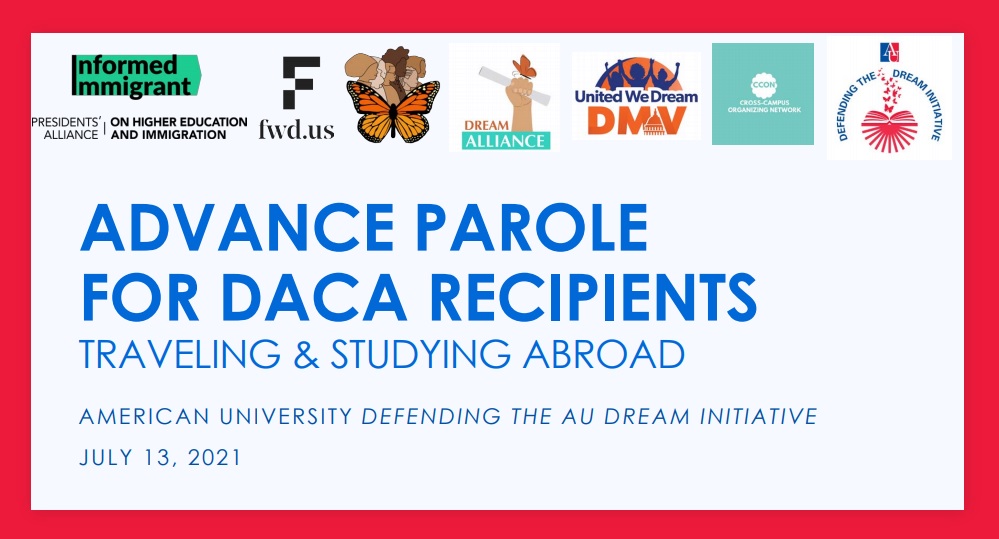 This post contains resources from American University's Defending The Dream AU Initiative and other partners on Advanced Parole and information on what the program is and how Deferred Action for Childhood Arrivals (DACA) recipients can apply for it. According to U.S. Citizenship and Immigration Services (USCIS), an Advance Parole document may authorize a non-citizen who is present inside the United States to re-enter the U.S. after temporarily traveling abroad. Applying for Advance Parole is an option for non-citizens such as DACA recipients, Temporary Protected Status (TPS) applicants and recipients, and other categories of non-citizens.
Those who have DACA may apply for Advanced Parole if they are traveling for educational purposes, such as studying abroad or for academic research. DACA recipients may also apply for Advance parole for employment or humanitarian purposes. Without Advanced Parole, DACA recipients who travel outside of the country will immediately lose their DACA status. DACA recipients can use the following resources as an informational guide.
Note: The July 16, 2021 order from the Southern District of Texas does not affect advance parole for current DACA recipients. If that should change, USCIS will provide updated information.
Note: DHS extended the date for REAL ID to go into effect to May 7, 2025. Beginning on that date, federal agencies, including the TSA, cannot accept a state-issued driver's license or identification card for official purposes unless it is REAL ID compliant and issued by a state that DHS has determined is in full compliance.
Advanced Parole Resources
These resources were developed by American University's Defending the Dream Initiative in July 2021. These resources take into consideration the July 16, 2021 decision on the DACA program by the U.S. District Court for the Southern District of Texas.