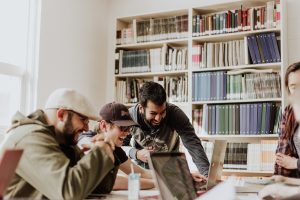 Our world has changed dramatically over the past year. A raging pandemic has swept through the globe, impacting industries, livelihoods, and social systems in its wake, while taking vast numbers of individual lives. It is estimated that refugees and those forced to flee their homes have been some of the most affected: forced displacement had already exceeded 80 million by mid-2020. A year later, inJune 2021 and the occasion of World Refugee Day (June 20) offers the opportunity to not only reflect on the magnitude of the global refugee crisis, but to also acknowledge and appreciate the vast contributions of refugees to their new and adopted homeland.
Refugees are an asset to their host economies and societies. First and foremost, their numbers are small: only 1 percent of the world's refugees are settled in countries like the U.S. and Germany, with most remaining within their home region. Second, research is increasingly showing that increased participation by immigrants in the labor market does not have a negative impact on domestic wages and employment opportunities. Third, when we look at the case of the U.S., despite being disproportionately affected by the virus, refugees have joined the rest of the country to serve as essential workers on the frontlines, and have battled COVID globally too. Healthcare has been the second most common field in which refugees in the U.S. participate, constituting 16% of all refugees working in that sector, working primarily as health aides, nurses, physicians, and surgeons. Refugee workers also played a vital role in maintaining America's food supply chain, with nearly 170,000 of them serving industries such as agriculture, food processing, grocery stores and supermarkets, and restaurants. As with other temporary and permanent migrants to the U.S. such as international students and skilled workers, refugees also bring their pre-existing education, knowledge and skills which—if appropriately tapped and harnessed—can be a benefit to the U.S., a "win-win-win formula for sustainable growth." 
Refugee students and scholars also make crucial contributions to U.S. higher education. Colleges and universities have a rich legacy of welcoming refugees and their families onto their campuses and communities, embracing the diversity of perspectives and backgrounds that they bring to America. With only three percent refugees able to access higher education globally, U.S. higher education can play an important role in educating and training this global talent pool. Campuses across the U.S. have implemented innovative programs and practices to aid refugees and other vulnerable communities access higher education, achieve degree completion, obtain career preparation, and find long-term success. Yet currently only small numbers of refugee students make their way to the U.S. to study as F-1 international students. The F-1 visa system is complex for refugee students to access and does not provide them with a durable solution. The Presidents' Alliance on Higher Education and Immigration has launched an effort in partnership with other organizations to explore higher education pathways as complementary pathways for refugee students to come to the U.S.
World Refugee Day 2021
In recognition of World Refugee Day, we invite you to view and use our portal's refugee student resources that range from effective practices and case studies drawn from U.S. colleges and universities about their work with refugee populations, to the deeply personal narratives and compelling stories of refugees. Learn about how a program at Highline College helps internationally educated professionals recertify to work in the U.S., or how the REVEST Program at Miami Dade College provides an educational training program for refugees, asylees, and legal permanent residents. Read about Sana Mustafa, a refugee from Syria, who graduated from Bard College and now supports refugees through her professional work, and Myra Dahgaypaw, a Burmese refugee who came to the U.S. on a student visa to attend Hunter College and subsequently won asylum.