How Refugee Students Can Access The New College And University Pathway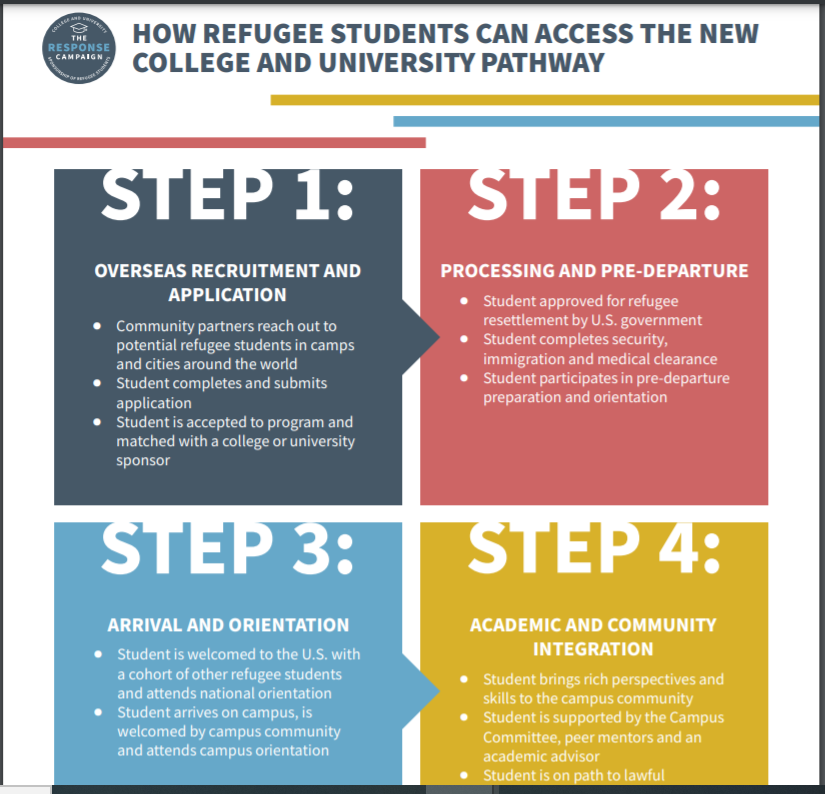 The Initiative on U.S. Education Pathways for Refugee Students created a proposed program model, How Refugee Students Can Access The New College And University Pathway, for colleges and universities to be able to directly sponsor refugee students.
The university sponsorship program would conduct intentional outreach and recruitment to ensure refugees have equitable access to the program. This involves engaging a range of local partners and using a variety of platforms to connect with potential students. Once recruited, refugee students would apply to the program via an accessible, flexible, and centralized application process designed with the specific needs of refugee students in mind. This consolidated process simplifies the application process for both students and participating HEIs, while allowing all parties to maintain agency. 
To establish eligibility, the Implementing Organization (I.O.) and overseas partner organizations first evaluate candidates based on academic criteria. Candidates who meet the established academic standards are next evaluated for refugee eligibility qualifications. Once students are selected for the program, the I.O. would refer their cases to the USRAP for processing under a newly-created P4 category for privately sponsored refugees. Once in the USRAP pipeline, students would go through the same processing steps as other refugees (P1-3), with particular safeguards built in to ensure their cases are processed in a timely manner in line with academic calendars. The I.O. would provide a pre-departure preparation program for incoming first-year students based on a foundational curriculum developed by the I.O., with input from HEIs and in line with PRM baseline requirements.
 The I.O. would host a cohort orientation in-person or online for all refugee students arriving as part of the university sponsorship program. This orientation will build on the Pre-Departure Preparation Program students received overseas, foster an additional community of support for the students beyond their campus, and introduce the students to the support staff and services offered by the I.O. 
Refugee students participating in the program would be degree-seeking full-time students and should be provided with the same services as any other degree-seeking student at the HEI. Students would enroll and attend classes in pursuit of a degree in the area of study of their choosing.