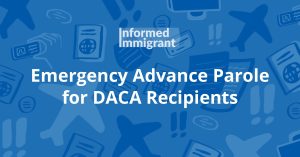 Informed Immigrant published a comprehensive emergency advance parole guide that empowers DACA recipients facing urgent international travel needs. Through USCIS, DACA recipients can apply for an advance parole (AP) document which allows them to temporarily travel abroad and re-enter the country. The normal advance parole application process can take up to 8 months to process through USCIS, but emergency advance parole requests can be completed in person at a local USCIS field office. In this guide, the emergency AP process is explained step-by-step, required documents are listed out, and practical tips are provided.
For the English version, see here.
For the Spanish version, see here.