Florida's In-State Tuition Waiver for Dreamers: What You Need to Know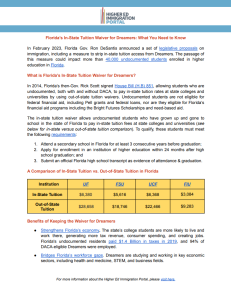 In February 2023, Florida Gov. Ron DeSantis announced a set of legislative proposals on immigration, including a measure to strip in-state tuition access from Dreamers. The passage of this measure could impact more than 40,000 undocumented students enrolled in higher education in Florida.
What is Florida's In-State Tuition Waiver for Dreamers?
In 2014, Florida's then-Gov. Rick Scott signed House Bill (H.B) 851, allowing students who are undocumented, both with and without DACA, to pay in-state tuition rates at state colleges and universities by using out-of-state tuition waivers. Undocumented students are not eligible for federal financial aid, including Pell grants and federal loans, nor are they eligible for Florida's financial aid programs including the Bright Futures Scholarships and need-based aid.
This resource includes information and data related to the benefits of keeping Florida's In-state tuition waiver. The resource covers the following topics and arguments:
What is Florida's In-State Tuition Waiver for Dreamers?
Comparison of In-State Tuition vs. Out-of-State Tuition in Florida
Benefits of Keeping the Waiver for Dreamers
Additional Resources
Save Florida's In-State Tuition (tuitionfairness.com)
Small Cost, Bigger Payoff: Florida's Tuition Equity for Dreamers Law (floridapolicy.org)
Florida's In-State Tuition Waiver for Dreamers Strengthens the State