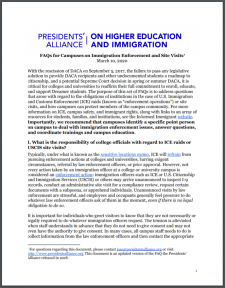 Colleges and universities have an opportunity to affirm their full commitment to enroll, educate, and support undocumented students. These Frequently Asked Questions (FAQs) address the obligations of institutions in the case of Immigration and Customs Enforcement (ICE) raids or site visits. They also provide an overview of how colleges and universities can protect members of the campus community.
The FAQs recommend that campuses identify a specific point person on campus to deal with immigraiton enforcement issues, answer questions, and coordinate training and campus education.
This document answers the following questions:
What is the responsibility of college officials with regard to ICE raids or USCIS site visits?
What privacy protections exist for DACA and undocumented students?
What is the Institution's responsibility with regard to ICE making an unannounced site visit with regard to sponsored foreign nationals (including students and scholars in F-1 or J-1 status)?
How to respond to I-9 notices of inspection?
How should campuses prepare and respond to ICE site visits?
What are the rights of individuals who may be targets of immigration enforcement actions?
What is the role of the federal prohibition "harboring" undocumented immigrants and campuses?
What are best practices in responding to voluntary detainer and notification requests?