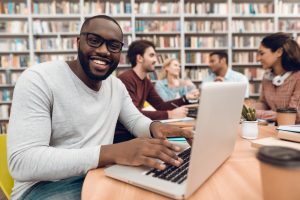 Resources and Organizations Supporting Refugees in Credential Evaluation
Every year refugees don't know how to continue their studies in the U.S without a U.S. transcript or certificate. If a refugee student has completed their studies outside the United States, credentials can be evaluated, especially for employment, furthering education, professional licensure. There are educational evaluation organizations, such as ECE, ERES, and WES that can help assess your transcripts. Also, students often need to submit the scores obtained from one of the English Standard Tests, such as TOEFL, before being admitted to a U.S. college or university. Duolingo English Test provides an alternative to traditional English tests at low or no cost for refugee students.
Educational Credential Evaluators (ECE) ECE® Aid
ECE® Aid is a charitable initiative developed to provide free evaluation reports for vulnerable and displaced populations. 
ECE® Aid Selection Process and Eligibility guidelines
ECE® Aid Process
Eligibility guidelines of ECE® Aid
A partner identifies someone in need at their organization 
Partner sends referral to ECE® Aid ECE® Aid sends coupon code back to partner
Coupon code waives 100% of ECE fees 
Credential evaluation process begins when documents are received for review 
Refugee or asylum status 
Temporary Protection Status 
Special immigrant status 
Extreme hardship 
Environmental disasters 
Lack of funds or scholarships due to unavoidable circumstances 
ECE® Aid Partners
ECE does not accept an individual's request for a fee waiver. If an individual is working with an organization (resettlement, employment, university, etc. ), their advisor or counselor can contact Zak, zholochwost@ece.org to get them setup with a fee waiver.
ECE partners with various organizations, such as universities and community colleges, resettlement agencies, employment agencies, literacy councils, community organizations, and EducationUSA. As a result, almost 600 fee waivers were provided since 2016 and people from 74 countries were served. In 2021, ECE® Aid provided a healthcare response and Afghanistan emergency response and a Ukraine emergency response began in 2022. Please click here to get more information.
Educational Records Evaluation Services (ERES)
Educational Records Evaluation Services help non-US educated individuals to receive the U.S. equivalency for their studies. ERES reports may be used for different purposes such as admission and academic credit transfer to US college & universities, applying for a professional license, and employment in the U.S. 
ERES Fee Waiver Program
Fee waivers are available for a candidate who completed their studies in Afghanistan, Iraq, Syria, Turkey, and Ukraine.
ERES only accepts applications directly from the institutes or organizations that identify someone as eligible for this program
Eligible applicants may qualify for a full waiver or partial waiver
Please contact ERES on edu@eres.com and click here to get all necessary requirements before getting started.
World Education Services (WES)
World Education Services (WES) is a non-profit social enterprise dedicated to helping international students, immigrants, and refugees achieve their educational and career goals in the United States and Canada. 
WES Gateway Program
The WES Gateway Program assesses the educational credentials of individuals who have been displaced as a result of adverse circumstances in their country and have limited proof of their academic achievements.
A WES Gateway Program credential evaluation report can help eligible individuals continue their education, become licensed in their field, or take the next step on their career pathway in the United States. The report can be used by higher education institutions, regulatory bodies, and employers.
WES works with designated partners to identify individuals who are eligible for the Gateway Program. The program is available to individuals educated in Afghanistan, Eritrea, Iraq, Syria, Turkey, Ukraine, and Venezuela who meet program requirements.
Because academic institutions and licensing bodies value authenticated documents, WES recommends that individuals attempt to obtain their official documents for a standard WES evaluation before applying through the WES Gateway Program. Please click here to get more information.
Please click here to get more information on the WES Gateway Program.
Duolingo English Test 
Duolingo English Test (DET) is an innovative and accessible English proficiency test for today's students and institutions. The main mission of Duolingo English assessment is to lower the barriers to education. 
Accessible-DET has been taken in 200+ countries and costs $49
Comprehensive- DET includes scores, video interview, and written sample
Fast- Certified results available in 2 days
Reliable- Uses machine learning
Secure-Remote proctoring AI, browser lockdown, adaptive test, and more.
Please visit the Duolingo English Test website for more details.