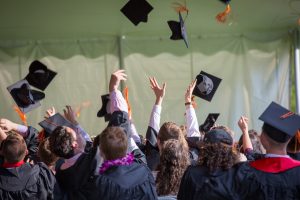 As part of The College Presidents with Undocumented Students Series, the UndocuScholars team at the Institute for Immigration, Globalization, and Education at UCLA met with a leader in the field, President Brian Murphy of De Anza College, to learn more about his work with undocumented students.
Equity in higher education for undocumented students is a civil and human rights issue. The United States has restricted access to an affordable college education for undocumented students and perpetuated exclusionary campus climates. Across the country, undocumented youth and their families have been the leading advocates for change and liberation. Working with and for undocumented students, some college staff, faculty, and administrators have been allies for change. Presidents of colleges can play a particularly influential role in making change.
The College Presidents with Undocumented Students Series features college presidents who have worked with their students, staff, and faculty to build effective best practices for undocumented students. This series aims to build a culture across the higher education sector around the importance of education equity for undocumented students. The first film in the series features De Anza College, a community college in Cupertino, California. De Anza College is a community college in Cupertino, California close to San Jose, Silicon Valley, and the San Francisco Bay Area. Community colleges are particularly important institutions because the majority of undocumented students in college attend community colleges. Our team also met with the undocumented student group HEFAS (Higher Education for AB 540 Students) to learn more about their leadership in creating change for undocumented students at De Anza College.