Beyond DACA: A Directory of Resources for Undocumented Students & Individuals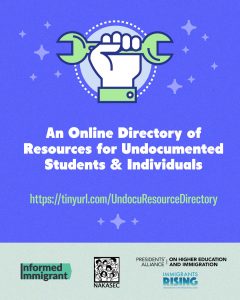 The U.S. is home to 427,000 undocumented students in higher education and close to 2.7 million Dreamers across the country. The purpose of this Beyond DACA directory is to provide a consolidated place for the most recent resources to support undocumented students and individuals access and afford college, start their professional careers, and receive legal support and mental health support, among other types of resources. These resources were designed by pro-immigration organizations in the non-profit sector to help undocumented students and individuals, including those with and without DACA, understand their options and opportunities.
The resources in this page were compiled by the Presidents' Alliance, Immigrants Rising, Informed Immigrant, and NAKASEC.
Overview (Where is DACA now?)
The U.S. Court of Appeals for the Fifth Circuit released its decision in the case Texas v. United States on October 5, 2022, siding with U.S. District Court Judge Andrew Hanen's earlier ruling that DACA is unlawful. The ruling keeps in place protections and renewals for current DACA recipients, while continuing to block new applicants. The ruling returned the case to Judge Hanen, who will have a chance to determine the legality of DACA in light of the Biden administration's new rule to fortify the program.
College Access and Completion
High School Students
College Students
Institutional Support
Transfer Process

College Affordability and Financial Aid
The U.S. is home to 427,000 undocumented students in higher education. Each U.S. state implements its own policies in terms of providing undocumented students with access to in-state tuition (for public universities) and state financial aid.
In-State Tuition and State Financial Aid
Scholarships
Entrepreneurship
Anyone, regardless of immigration status, can make money by building their own businesses and working for themselves. Below are resources that can help you generate income through entrepreneurship and freelancing.
Legal Support
Non-Employment Based Opportunities
DACA: How to Apply for Renewals
Healthcare