Beyond DACA: A Directory of Resources for Undocumented Students & Individuals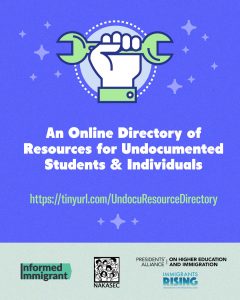 The U.S. is home to more than 408,000 undocumented students in higher education and close to 2.7 million Dreamers across the country. The purpose of this Beyond DACA directory is to provide a consolidated place for the most recent resources to support undocumented students and individuals access and afford college, start their professional careers, and receive legal support and mental health support, among other types of resources. These resources were designed by pro-immigration organizations in the non-profit sector to help undocumented students and individuals, including those with and without DACA, understand their options and opportunities.  
The resources in this page were compiled by the Presidents' Alliance, Immigrants Rising, Informed Immigrant, and NAKASEC.
Overview (Where is DACA now?)
On September 13, 2023, U.S. District Court Judge Andrew Hanen found that the regulation issued by the Biden administration in 2022 that formalized DACA was unlawful. This ruling will keep the status quo for current DACA holders—allowing for renewals and applications for advance parole. However, the program will continue to be closed for first-time applicants.

The Biden administration is anticipated to appeal this ruling, but based on its previous decision, the Fifth Circuit is likely to agree with Judge Hanen that the DACA regulation is unlawful. This case is ultimately expected to be appealed to the U.S. Supreme Court.
The Current State of DACA (MALDEF, 2023): This resource provides an overview of the most recent updates to DACA, including litigation and rulemaking that impacts the program.
College Access and Completion
High School Students
Guide for Undocumented High School and College Students (Informed Immigrant, 2021): This guide will provide undocumented high school and college students, both with and without DACA, to help them make informed decisions about their futures and acquire the tools they need to advocate for themselves at the high school and college levels.
Options for Undocumented High School Students (Informed Immigrant, 2021): This guide will provide some alternative options when considering what's next after high school.
College Students
Institutional Support
Transfer Process

College Affordability and Financial Aid
The U.S. is home to 427,000 undocumented students in higher education. Each U.S. state implements its own policies in terms of providing undocumented students with access to in-state tuition (for public universities) and state financial aid.
In-State Tuition and State Financial Aid
Overview of Undocumented Students (Immigrants Rising, 2022): This overview has important statistics at your fingertips about the undocumented population, how undocumented students are defined, the challenges they have in pursuing college education, and federal/state policies impacting them.
Portal to the States: Tuition and Financial Aid Equity for Undocumented Students (Higher Ed Immigration Portal, 2022): This resource includes a map that summarizes all 50 state policies in terms of whether they provide access to in-state tuition and state financial aid to undocumented students. Visitors can click on a state for more information about that state's policy.
Scholarships
Entrepreneurship
Anyone, regardless of immigration status, can make money by building their own businesses and working for themselves. Below are resources that can help you generate income through entrepreneurship and freelancing.
Legal Support
Non-Employment Based Opportunities
DACA: How to Apply for Renewals
Healthcare
UndocuHealth and Wellness Initiative (United We Dream, 2022): This resource includes Mental Health Toolkit, Mental Health Directory, UndocuHealth Webinars, etc.

The Mental Health Toolkit provides readers with:

7 steps to keeping calm and organizing within our community
Explanation of how our bodies respond (fight or flight vs. rest and digest)
101 Mindful Breathing

The Mental Health Directory allows readers to browse by state in finding licensed mental health practitioners that provide pro bono/low bono services.
UndocuHealth Webinars – none at the moment
Sign up HERE to receive resources from the United We Dream UndocuHealth team.