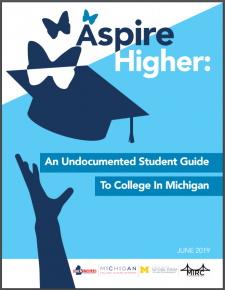 Applying to college as an undocumented student can be challenging, especially when there are limited resources in Michigan to support undocumented students apply and enroll in higher education.
This guide, created by a number of Michigan community organizations, is designed to help undocumented students and their families by providing resources available for undocumented students interested in pursuing higher education. The report clarifies that many colleges and universities in Michigan grant in-state tuition to undocumented and DACA students. College cost policies may vary from school to school, but accessing college is possible in certain institutions.
The report provides an overview of how students can prepare, apply, and for college. The report also provides resources students can utilize to ask for help, including scholarship opportunities.
Aspire Higher: An Undocumented Student Guide to College in Michigan.
Partners:
One Michigan
Michigan College Access Network (MCAN)
National Forum for Higher Education for the Public Good
Michigan Immigrant Resource Center (MIRC)