JOIN US AS A CORPORATE SPONSOR!
The Higher Ed Immigration Portal provides higher education leaders, policy makers, students, and stakeholders with the information and tools they need to inform immigration policies that expand access to higher education and career success. The Portal represents a coalition of partners and contributors working together to maximize our collective impact. We invite companies and organizations to join as corporate sponsors, complementing our current nonprofit partners.
WE WELCOME MISSION-ALIGNED COMPANIES TO JOIN US AS CORPORATE SPONSORS. Learn more here.
WHY SUPPORT US AS A CORPORATE PARTNER?
Provide evidence-based and factual resources to support federal immigration policies that benefit students and higher education institutions.
Fuel positive change at the state and campus level.
Build a diverse movement of partners and stakeholders advocating alongside students.
Support education and career access for immigrant, refugee, and international students and help build a pathway for talent retention.
HERE ARE SOME OF THE WAYS THAT YOU CAN BENEFIT BY BECOMING A CORPORATE PARTNER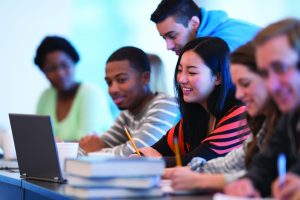 Recognition of your organization/company as a sponsor on the Higher Ed Immigration Portal.
Announcement and recognition of your organization/company as a sponsor in the Presidents' Alliance newsletter and social media.
Resources and materials from your organization/company added to the Portal and highlighted in our newsletter and social media.
A commitment to developing joint thought leadership resources.
And MORE!
Our Current Corporate Sponsors
SHORELIGHT

Shorelight is a leading international student marketplace in the United States. Our platform connects international students, universities, and service providers to drive student enrollment and performance at scale. We do this so that a more globally diverse population can lead and prosper for generations to come. Together, we help Educate the World.
Social Media: LinkedIn.